OM Group has awarded its three-person Environmental Services team at Tobyhanna Army Depot – Cathy White, Robert Torch and Michael Parrent – the company's Semper Deinceps Challenge Coin Award after receiving high praise from the Depot.
"We work hard to find just the right people to work at OM Group – people who are more than just skilled at what they do, but who also care about what they do – and it shows," OM Group Vice President Sangita Subramanian said. "Cathy, Robert and Michael exemplify the best that OM Group has to offer."
Corey Snyder, OM Group Program Manager for Environmental Services, lauded his team and shared what their direct report at the Tobyhanna Army Depot said about their work. He added that, "The Environmental Services piece is often overlooked, as we are an IT Company after all, but [this client praise] speaks volumes to what the Environmental team brings to the table."
"Tobyhanna's (TYAD) FY19 has come to an end and we have managed to exceed many goals," Janet Warnick of Tobyhanna said. "TYAD has also passed several audits including the AS9100/9110 Quality Audit and the ISO 14001 Environmental Audit.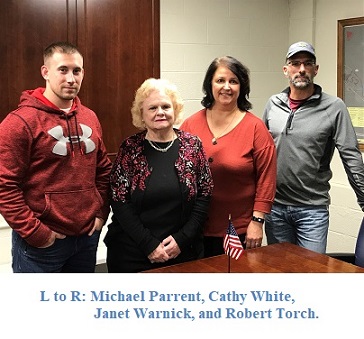 Our OM Group contractors (Cathy White, Robert Torch and Michael Parrent) are significant contributors to our success in these areas as these projects incorporate the proper use, storage, labeling and accounting for the voluminous hazardous materials used on the Depot. In my short time here, I continue to be impressed by [their] dedication to ensuring that the Depot personnel have the materials they need in order to complete their work. OM Group is an integral part of TYAD's ability to provide the best products and services for the Warfighter. I am so thankful to work with these professionals. They are a true asset to our environmental team at TYAD."
OM Group's Semper Deinceps Challenge Coin Award, is Latin for "Always Forward," and is given to team members who exemplify the company's culture of excellence.
About OM Group Environmental Services
OM Group supports a full spectrum of Environmental, Safety and Occupational Health (ESOH) programs that include assistance with field audits/investigations/compliance to designing, building and deploying complete ISO 14001 compliant Environmental Management Systems (EMS) and OSHA and ANSI compliant Safety Management Systems (SMS). Our applications include environmental, safety and health assessments, compliance auditing tools, Mishap Investigations, hazardous waste & disposal management, Hazard Communication and Risk Management tools, Training and Education Development, budgeting and inventory management, as well as remote/mobile applications.